WARNING: THE BELOW LIST IS UNTESTED, AND MIGHT BE BEYOND HORRIBLE IN A REAL GAME!
WARNING: PALKIA LOCK IS A PROVEN ARCHETYPE FROM THE PAST, BUT MAY BE HORRIBLE FOR STATES, EVEN IF THE LUCARIO VARIANT IS SUPER-GOOD!
WARNING: THE BELOW LIST IS CRAZY-AWESOME!
Pokemon (18):
3 Palkia G PL
1 Palkia G LV.X PL
3 Uxie LA
1 Uxie LV.X
4 Mesprit LA
1 Crobat G PL
1 Azelf LA
1 Unown Q MD
1 Bronzong G PL
1 Lucario GL RR
1 Toxicroak G PR
Trainers/Stadiums/Supporters (30):
4 Cyrus's Conspiracy
4 Pokemon Collector
4 Energy Gain
4 Poke Turn
4 Super Scoop Up
3 Seeker
2 SP Radar
2 Power Spray
1 Premier Ball
1 Pokemon Communication
1 Aaron's Collection
Energy (12):
5 Water
4 Call
2 SP
1 Psychic
(Is that it? Is that Palkia G?!)
[I don't think it is…Damn…]


The idea is pretty simple: use Mesprit's Psychic Bind to repeatedly assure a power lock for the whole game by means of Super Scoop Up and Seeker. The list could definitely use some hand disruption to make things extra cooler: Giratina PL, Judge, and/or Looker's Investigation are all awesome choices.
This is definitely atypical for SP, and – as qualified – could very well be terrible beyond belief. However, it's pretty easy to make tweaks to make this a more standard SP. It may take some work to do it, but you can feasibly fit 3-1 garchomp, 4 Double Colorless Energy, and an Ambipom G and/or Dragonite FB to make things work.
Also, to accommodate for your presumably horrid Lostgar (Gengar Prime Triumphant/Lost World Call of Legends) matchup, you might consider running Absol G LV.X, Chatot G, and a Lost World or three of your own.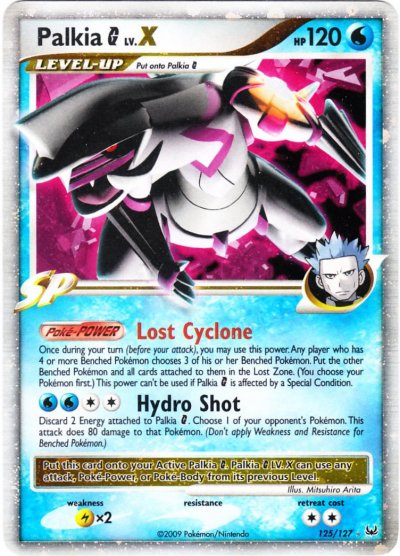 (There…That's better.)

'Til next time,
-Heytrainer