Introduction
Hey, everybody! It's been a while since my last post, but there have been some very good reasons for that. One such reason is that I've been distracted and anxious about Hurricane Harvey, the Category 4 hurricane which turned into one of Houston's worst tropical storms in modern history.
I can't thank those of you enough who checked in on me – I'm one of the lucky ones. But now that the storm is over, it's time to do what we can to help out our fellow Houston players. That's why I'm privileged to announce that the Katy Pokémon League and Steve Lewis, in partnership with HeyTrainer.org, are launching the Harvey HeyTrainer Foundation.

Background and Mission
On August 26, 2017, Hurricane Harvey began devastating much of southeast Texas. In addition to the damage and destruction that occurred in the coastal communities of Rockport, Fulton, and Port Aransas, torrential rains flooded thousands of properties in the greater Houston and Beaumont areas.  The flooding forced evacuations of towns and neighborhoods, displacing tens of thousands of residents in Houston and the surrounding area. Although the affected areas are just now beginning to recover, the entire region is deeply scarred and will take a long time to return to normal.
The Harvey HeyTrainer Foundation's goal is simple: collect, organize, and distribute Pokémon cards and video games so that players and collectors affected by this storm can rebuild at least some of their lost collections. We believe that helping fans piece together something they love would be a great way to help them get back to a sense of normalcy and can be an enjoyable method of staving off boredom. The HeyTrainer Foundation believes that Pokémon teaches strategic thinking and good sportsmanship, as well as reinforces the basics of reading comprehension and math.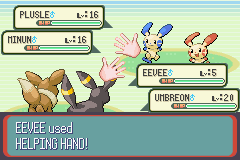 How You Can Help
Steve Lewis is leading this charitable effort and will be coordinating with Pokémon Leagues, trading card stores, and schools in the region to address the needs of players and collectors affected by Hurricane Harvey. But help is needed in many areas, and you can make a big difference in this effort!
A Facebook page for the Harvey HeyTrainer Foundation has recently been launched, with applications both to donate needed Pokémon cards and video games, as well as to request replacement of lost Pokémon items. Once an application is submitted, that person will be contacted via email with additional instructions. Later announcements requesting local volunteers will also be made using the Facebook page. Obviously, this effort will take a lot of time and hard work, but with your help, it will be a great success.
For additional inquiries, you may reach Steve Lewis via e-mail at heytrainerfoundation@gmail.com .

About the Sponsors
Katy Pokémon League, run by 2017 NAIC and 2016 Worlds staff member Steve Lewis, is one of the many successful Pokémon leagues in the greater Houston area. Steve's league attracts players of all ages, but it is especially well known in the area for its attention and helpfulness to younger players.
HeyTrainer.org is a well-known Pokémon Trading Card Game fan site. Founded by John and Billy Kettler in 2009, HeyTrainer is renowned for its tournament-winning decklists, insightful competitive analysis, and its "Social Saturdays" segments, which highlight and raise awareness about aspects of the Pokémon community.